People Profits is a financially focused Human Capital Consulting firm located in Oklahoma City, OK with offices in the Dallas-Fort Worth and Waco metro areas.  We focus on three issues which we believe are three of the biggest issues facing organizations.
Employee Turnover
Chronically open positions also know as Labor Shortage
Skills Gap
People Profits sees some Human Capital Management issues differently than conventional HR wisdom. We reject the idea that you have to choose between putting People or Profits first. We reject the question itself as being destabilizing. Our logo explains it best, People and Profits tied together with an infinity sign. When you join the two – magic happens. Everyone benefits, stability is increased and friction between the two issues is eliminated.
People Profits helps our clients identify their root causes of the three above issues. We help develop a plan with strategies, systems, and processes which will eliminate the root causes. We help implement the plan as needed by each client. We help maintain the strategies and systems.
Once your workforce is stable, People Profits helps companies grow to meet their purpose.
Clark A. Ingram, is the Founder and President of People Profits, LLC - a financially focused Human Capital management consulting firm. We focus on the three greatest Human Capital problems affecting organizations: Employee Turnover, Chronically Open Positions and Skills Gap.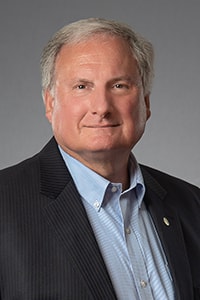 He started his career in Finance; however, after proving he was a problem solver he was pressed into HR. At that time, Team Industrial Service was having employee turnover which threatened the viability of the organization. Over the next 32 years he was the Chief Human Resources Officer for four companies, in four different industries from publicly to privately held. The four companies were in the Industrial Service, Manufacturing, Healthcare and Apparel Manufacturing industries. Though the companies had widely different missions, cultures and employee demographics they all had the three problems listed above.
Clark has three children, three kid in laws and four grandchildren.     
Clark's formal education includes a Bachelor's degree in Finance from the University of Texas at Austin and a MBA from Texas A&M at Texarkana. His professional certifications include: Senior Professional in Human Resources (SPHR), Certified Employee Benefit Specialist (CEBS), Chartered Property and Casualty Underwriter (CPCU) and Associate in Risk Management (ARM).